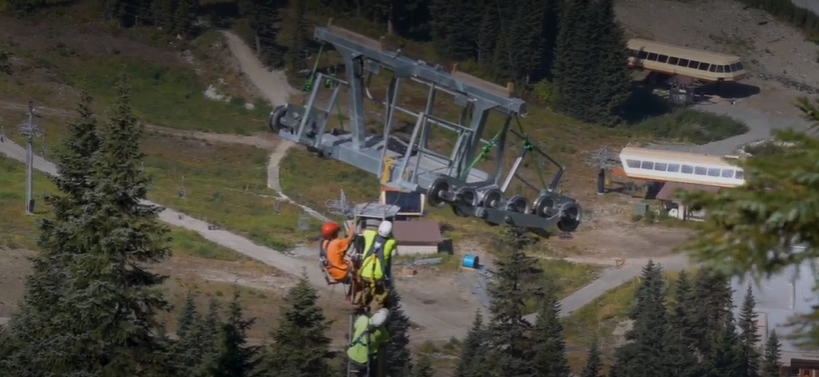 Hi everyone,
I like recognizing milestones throughout the Kehr's Chair project, which started with the first big step four months ago when we started demolition of the old chair. We hit another huge milestone today when we installed the towers and crossarms for the new chair. They had to be placed by helicopter since there's no access road, which required additional resources from the SkyTrac team. The crew that's been installing a lift at Mt Hood Meadows came up to help us fly our towers and crossarms. This phase of lift construction takes precise and deliberate action that requires experience and expertise. The ground crew was responsible for lining up the tower with the bolts in the concrete foundation and securing each tower in place. Once that is done, two other team members climb the tower, tie off at the top, and secure the crossarm while it's still tethered to the helicopter. It's not for the faint of heart!
Not only did we fly towers today, but we also flew the communications line and a separate tag line that will be attached to the haul rope. The communications line is the cable you see running down the middle of a lift that carries data signals from each tower's circuitry, and phone lines so that employees can communicate between terminals and with dispatch. Having the tag line in place will allow the construction team to pull the new haul rope up and around the upper bullwheel and back down to the lower terminal area where it will be rigged for splicing the two ends together. This will be our next major milestone.
We still have plenty of work to do but today is a huge milestone with this lift installation. In the next post, we'll share photos of the new lift alignment so you can see how it's shifted just a little from the original line. As always, I will keep you updated as we continue to make progress.
For those of you that joined us today, thank you for your patience. Completing today's project took us longer than expected, and we really appreciate your understanding. Be sure to check out our Instagram and Facebook pages for video of today's flight operations.
Thanks,
Vince