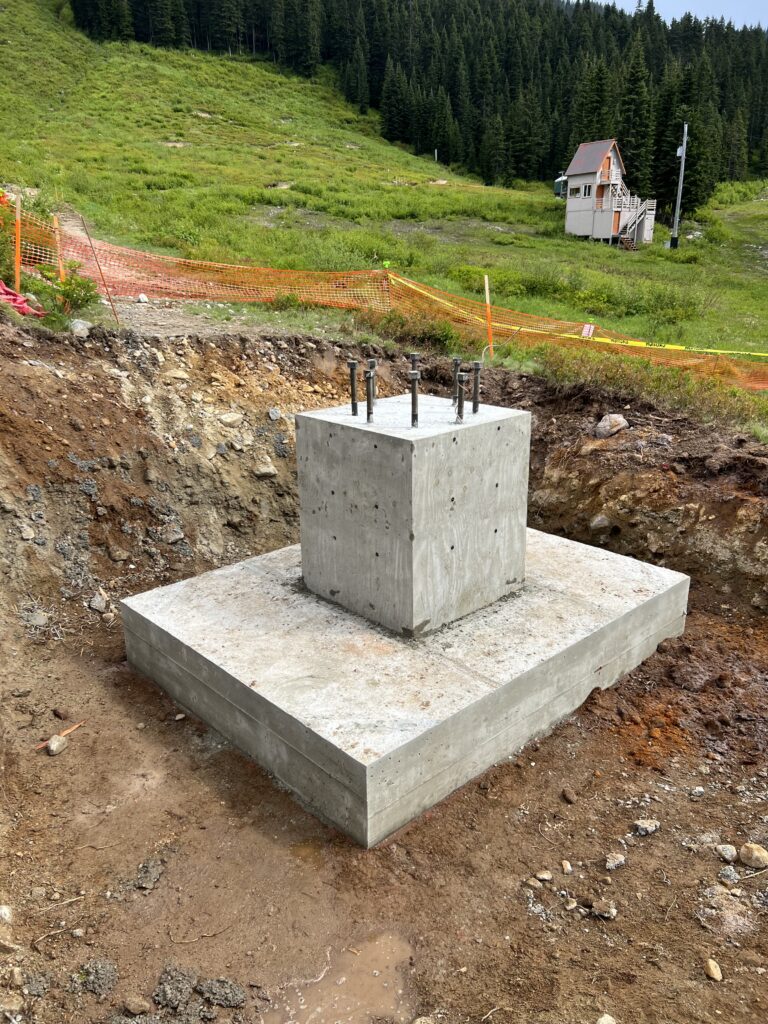 Hello everyone,
We are now in full construction mode with all our outside contractors actively engaged with their tasks to support the build. Last weekend we poured concrete at the upper terminal foundation by helicopter, and that same morning we landed all of our tower footings in their perspective locations. Preparation for the lower retaining wall has been completed. The lower loading area has shifted slightly and is now closer to the Pacific Crest Lodge, and the retaining wall allows us to accommodate a new maze design that will be larger and more efficient. Electrical conduit is in place, and the plan is to start the retaining wall this week.
In the next two weeks we will be focused on tower alignment as the team prepares for the next concrete pour. Flying the forms into place gets them on the mountain and close to where they need to be, but now the team will manipulate these footings by hand to get them centered. There's a lot of strenuous physical labor involved to get them aligned perfectly.
Hats off to the lift construction crew. This crew has been working almost nonstop, putting in long days in the rain, fog, and heat while fighting mosquitos the entire time.
And if anyone is wondering, a new record hiking to the top terminal has been set by Alex Dodge, who is a patroller in the winter. The guy must have a third lung… the time to beat is now 14 min. While the record will be tough for anyone to beat, I shaved three minutes off my personal best time and my own record is now at 30 min.
More soon.
Thanks,
Vince