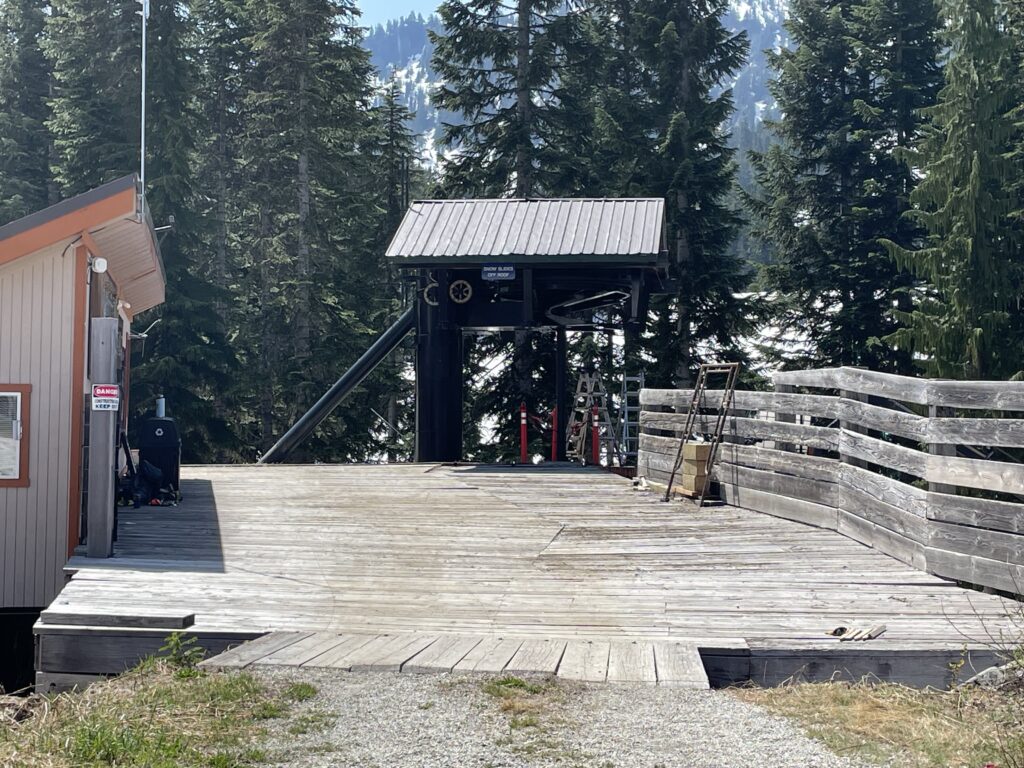 Hello everyone,
It is truly amazing how much work can be accomplished with a good crew and a little help from Mother Nature. All of our preparations over the past four weeks paid off. Everything that was cut and dropped to the ground from the old chair was rigged and flown off the hill, and we had favorable weather that made for a perfectly executed fly day. While there is an access road to the bottom terminal, there is no road uphill. That means the crew has to hike up the hill every day! The record so far is 28 minutes, but it takes me an average of 40 minutes to climb up. It's quite a haul, and that's why we need air support from time to time throughout this project to bring equipment up and down the mountain.
The final steps of demolition were completed last week, with the lower bullwheel and its steel structure removed to clear the way for a new phase of this project – construction! Two additional contractors arrived over the weekend and our plan is to start working on the upper foundation and digging holes for the new tower alignment over the next two weeks. While this is happening, the crew will start building rebar cages and concrete forms. These cages will reinforce the concrete and the forms will keep everything in place. Once the tower footings have been prepared, we will move them into place during our next flight day.
We expect to receive several large shipments of material and equipment- including new operator houses, towers and cross arms – over the next few weeks. There will be a lot of moving parts throughout the summer, and we will occasionally need to temporarily suspend operations due to lift construction/flight operations. We will still utilize our uphill travel hotline (206-812-7847) as well as our social channels to communicate when this will happen.
I'll continue to update everyone with our progress, and we'll be sure post photos from time to time. The bike trails look great, and we expect to open on our target date of Thursday, June 22 for Bike Park Pass Holder Appreciation Day and Friday, June 23 for the public. More details to come!
Thanks,
Vince