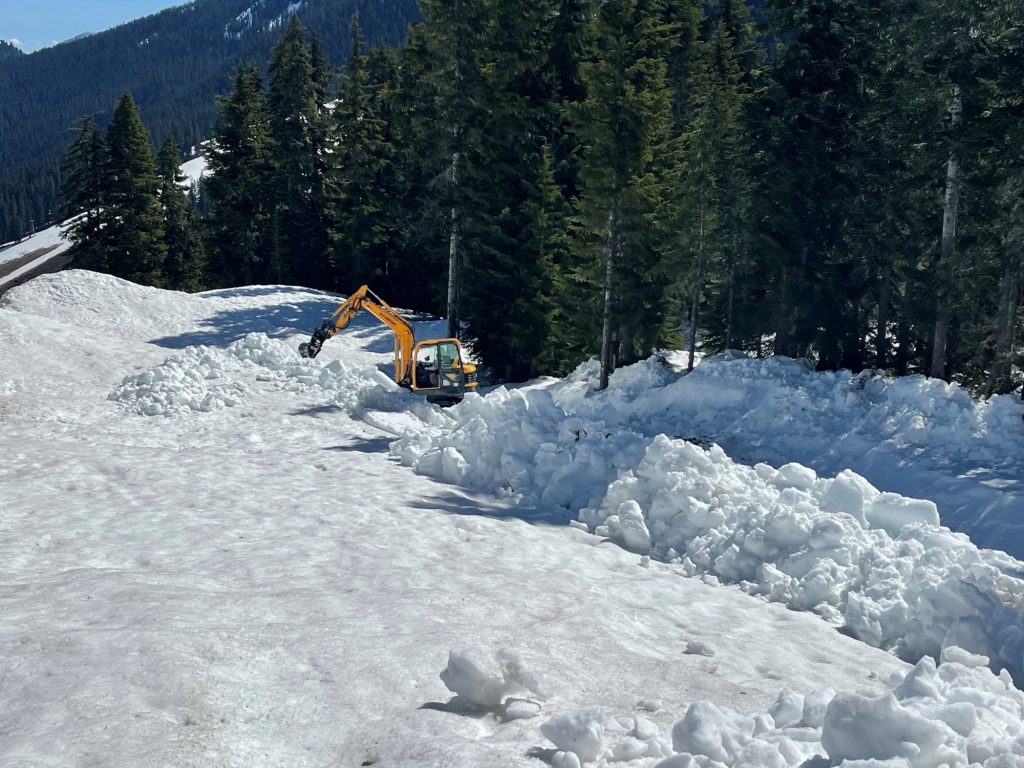 An excavator works on clearing trails for summer operations at Stevens Pass.
Greetings –
We're coming off a rainy and snowy weekend at Stevens Pass, and our teams are hard at work getting ready for summer operations. There is still a lot of snow on the mountain and we're making progress toward opening the Bike Park. In my last update with Tom, we shared a broader picture of how things are looking, and I want to provide another update:
The teams are here getting both our facilities and the mountain ready – including running the mini-excavator going 7 days/week to clear trails in the Bike Park.
Both the load and unload decks for Hogsback are in place.
Our F&B team has the GPL set up for summer and we've been picking up trash in the parking lots as the snow melts.
We have a few open roles – a full-time cook and a few remaining positions on our bike instructor team. If you or someone you may know is interested in joining us this summer, please check out our careers page.
Of course, the big question is 'are we going to open on Friday, June 24 as originally planned? The answer is yes and no. The good news is we're opening on the 24th, the less good news is – as anticipated and shared previously – the Bike Park opening will be delayed.  Our best estimate for opening is early July, simply due to the current amount of snow.
Here is an overview of what will be opening starting on Friday the 24th:
We will be open Friday, June 24 – Sunday, June 26 from 10am-6pm. Hogsback will spin for scenic rides and hiking on the summer road and we plan to open the disc golf course. Granite Peaks Lodge will also be open for business (including ice cream!)
We will be open Friday, July 1 – Monday, July 4, also from 10am-6pm with the same activities as above
Operating dates/hours will be updated again after the 4th of July once we can better estimate the Bike Park's opening date – more to come
The excitement to open the Bike Park is palpable amongst the staff and we look forward to welcoming you back to Stevens Pass – either for a round of disc golf or ride up Hogs to walk down the summer road. We are also asking everyone to stay off all biking trails until we're ready to open for the safety of our teams that are working and to not further delay opening the Park. We appreciate your support here.
It's great to be on-site at the Pass and I, along with the team, look forward to seeing everyone soon.
-Ellen