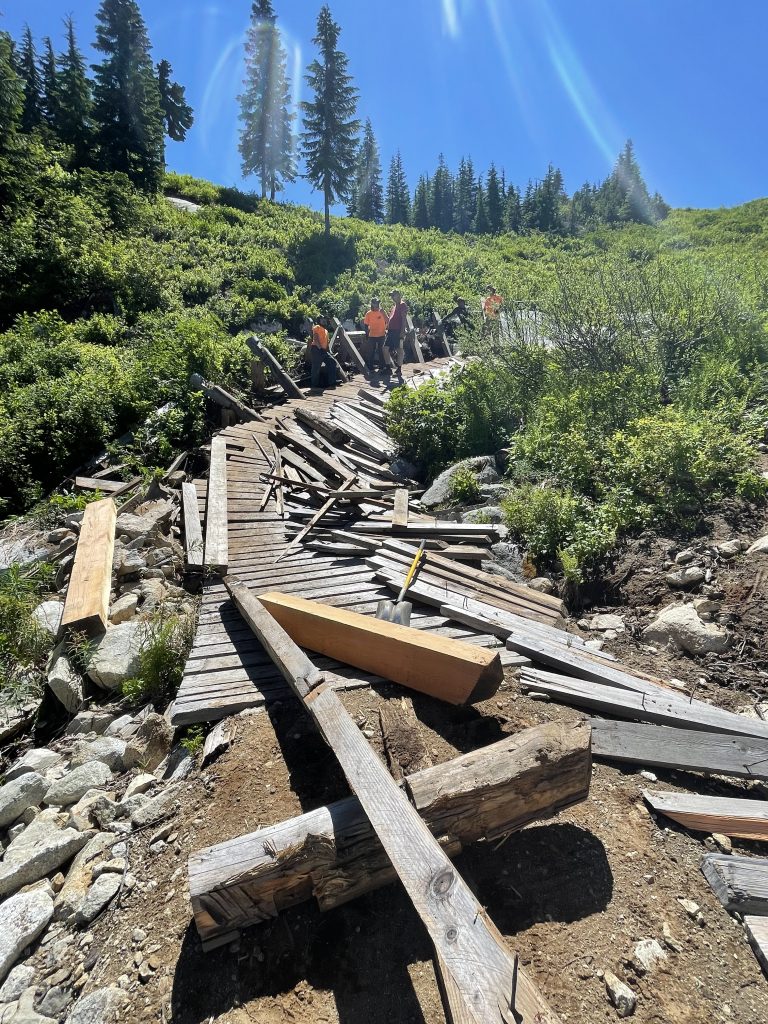 Hello and Happy Friday!
There is a lot going on at the Pass and we're excited for both the NW Mountain Challenge happening this weekend, and the opening of Bike Park next week on Friday July 29th!  The Trail Crew is in the final stages of bridge rebuilds for trails set to open next week (check out the before and after photos of PBR!). Once completed, they'll turn their focus to our remaining two trails, getting those cleaned up and ready to open. We anticipate having all other trails ready for opening day (8 of 10).  Open flow trails will be: Golden Spike, Morooka Motion, Rock Crusher + PBR. Open single track trails will be: X (Ten), Piranha Bird, Slingshot Wookie + Berserker. The final two trails (Luvin' It + Lichen It) should be ready within a few weeks as we finish up work on key trail intersections and repair and rebuild the remaining bridge.
If you are a Bike Park pass holder, please join us on Thursday, July 28th, to ride the trails in advance of our opening day on July 29th. We're also offering a Bike Park pass holder appreciation (free) lunch on Thursday from 12-5pm at Granite Peaks Lodge. I've included the menu in one of the pictures – it's going to be delicious! We look forward to welcoming everyone to our official public opening on Friday, July 29th. Our hours will remain Thursday-Sunday, 10am-6pm.
A few quick reminders:
The Northwest Mountain Challenge event is happening at Stevens Pass this weekend, Friday, July 22 – Sunday, July 24. This archery challenge is impacting our operations slightly. Granite Peaks Lodge will have extended hours + offerings; open 8am-10pm on Friday + Saturday and 8am-6pm on Sunday. For everyone's safety throughout the weekend, hiking will be limited to guided tours only and the disc golf course will be closed (all will, of course, reopen the following weekend). The set-up for this event has been going on for a few days now and it is very cool. I hope you join us this weekend and check it out
The RV lot is open and to reserve a spot, head over to our website, and navigate to explore the resort > summer activities > RV camping
Good luck to our archers in-house this weekend, and we look forward to welcoming bikes and riders back to Stevens Pass next week!
See you soon!
-Ellen