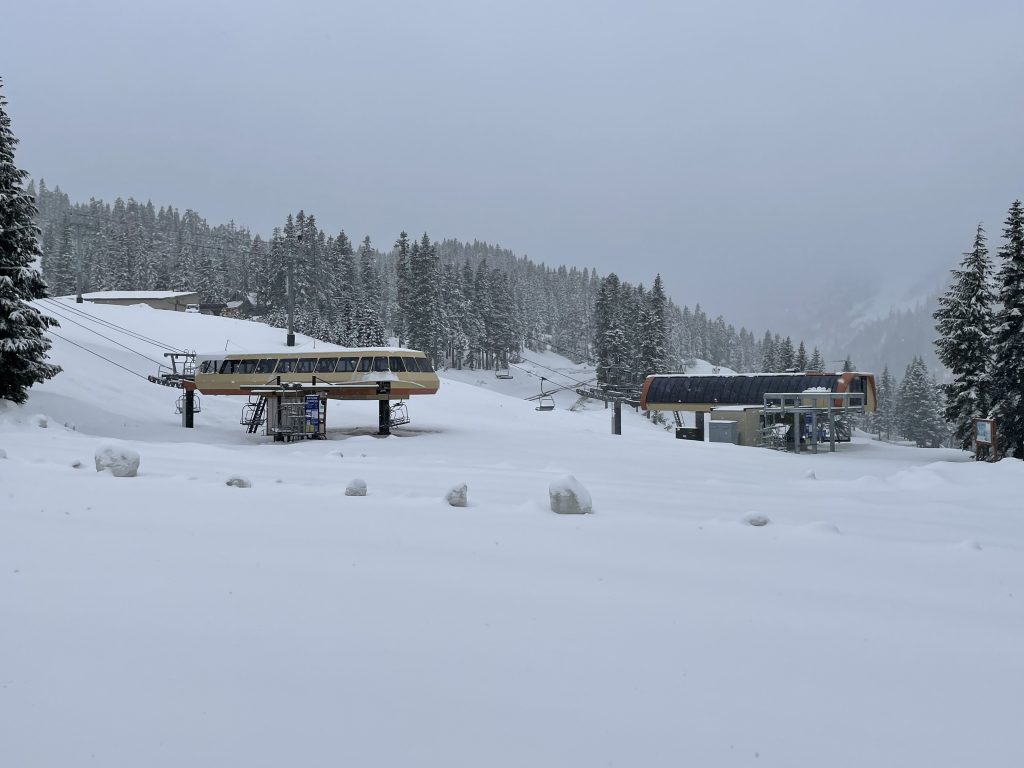 Hi, Everyone –
For our first joint post, we thought we'd take the Fortune Telling name and keep the fun going…say hello to 'Fortune tELLEN'! (See what we did there? Ha!) And, as promised, we want to provide a mid-May update about how things are shaping up as we prepare for summer operations.
As you know, we've had some wild weather the last few weeks, including a fresh 5" of snow yesterday (check out the pic of Skyline + Brooks). The upcoming 10-day forecast looks cool and damp, with no significant warming, unfortunately. Our team has been hard at work getting things prepared for summer, including a ton of focus prepping the bike park. This includes:
Lots of hand crew folks on deck supporting important activity to prep
Pushing snow with four snow cats
Moving the upper bike park unloading ramp to the top of Hogsback
Staging the loading ramp in the parking lot so we can hit the 'go button' as soon as we get road access
Plowing summer roads down to approx. 18" (from here, the rest of the snow needs to melt naturally)
Filling up the final openings we have in our Bike Park Team – we're proud to be 100% staffed for the park, and everyone is set to arrive on June 1!
A mini excavator arrives May 31 and will be put into action 7 days/week to remove snow immediately.
We are still working with the goal of opening on June 24, but based on the snow that keeps falling and the forecast through the coming weeks, we anticipate a delay of 1-2 weeks. This isn't a given, and much can change – we're basing this update on current conditions and want to give you as much heads up as possible. We will provide a more specific outlook for our summer opening in a few weeks.
We are well-staffed for summer, and diligently working…but sometimes Mother Nature has other plans. Thanks for hanging in there with us, and we'll continue to keep you posted.
Thanks,
Tom + Ellen