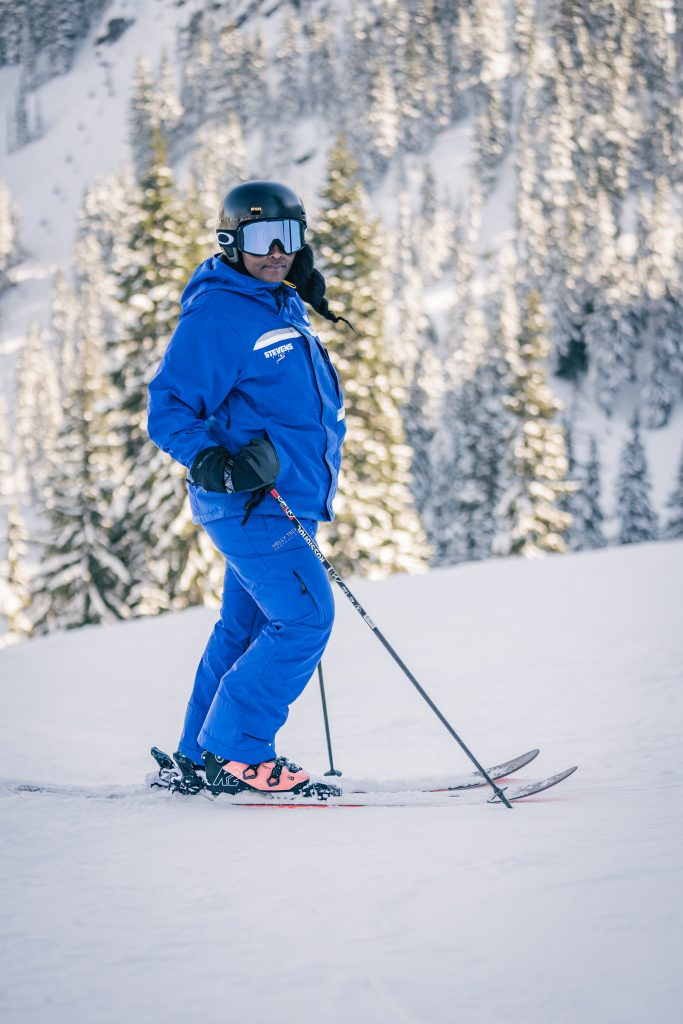 As Black History Month comes to a close, we are spotlighting Annette Diggs, founder of EDGE Outdoors + ski instructor at Stevens Pass. We are honored to call Annette a teammate and are inspired by her vision + leadership as she makes snow sports more inclusive. Read about her inspiration, ultimately leading to the creation of EDGE Outdoors:

Coming from a redlined community, I grew up thinking that ski resorts were unattainable for people like me. Redlining is, by definition, discriminatory practices that deliberately avoid investment in Black and Brown communities based on racist ideas – these actions have historically, and presently, affected wealth-building and health equity in marginalized communities. I later learned that ski resorts were out of reach by design. Past discriminatory laws – including the Indian Removal Act, Jim Crow Laws, redlining, and segregation – have systematically expunged the presence of Black, Indigenous, and People of Color (BIPOC) from mountain spaces.

Whether you're familiar with this dark history or not, you can see the evidence at any resort as clear as day. The lack of racial and ethnic diversity is obvious at the guest level and even more apparent in the low rates of BIPOC as certified PSIA-AASI instructors and staff. I faced this reality the first time I stepped into a pair of ski boots in my early 30s. As a Black woman on the ski hill, I did not see myself reflected, and my presence was noticed and scrutinized – not seen, which continues to this day. The redirection by others from a black run to a green run and the harmful coded language used to identify my Blackness all confirmed that my Black body was not an expected sight. I have been "othered" in every way you might imagine – which is why I decided to become a ski instructor and earn my PSIA-AASI certification.

As a PSIA-AASI certified instructor and recreational skier, I have witnessed and lived through the profound cascading effects of past discriminatory laws across a multitude of resorts. This inspired me to found EDGE Outdoors and change the narrative of who belongs on a ski hill – no one deserves to be told they're "out of their element," simply for riding a chairlift. EDGE Outdoors is a powerful snowsports initiative designed to address an overlooked segment of minority: Black, Indigenous, Women of Color (cis/trans/queer). Our mission is to attract and retain BIWOC/TWOC in snow sports by building a supportive community. Our vision is to bring more diversity to the slopes, bestow equity to women of color, and promote the normalization of Black and Brown bodies on the hill, all while encouraging these women to take positions on the mountain, especially as instructors.

Since day one, Stevens Pass' leadership has stood behind my vision of equity, justice, and inclusion for marginalized communities in snow sports. As a mountain family, we have held courageous conversations and sat in the reality of the inherent inequity of our country and snow sports. I am immensely thankful for their support of my development and active engagement with EDGE Outdoors. It would be difficult to move mountains of inequity without them. We all have an obligation to the community and sport to elevate the historically excluded. I am overjoyed to be on this journey with Stevens Pass and our community.